Target committed to achieving gender parity on our technology team 
back in 2016
, and we have made strides towards these goals every year since. One way our team loves to celebrate women in technology is through the annual 
Grace Hopper Celebration
 (GHC).
The largest technical conference for women in the world, Target sends technologists to attend Grace Hopper every year. We are excited to report that there are three teams of Target women who have been selected to present at this year's event.
We had a chance to sit down with the teams of presenters who are preparing for their talks at Grace Hopper next week. We enjoyed hearing from them about the topics they will be sharing and loved getting the opportunity to learn more about them as people, their careers, and what they are looking forward to experiencing at the conference.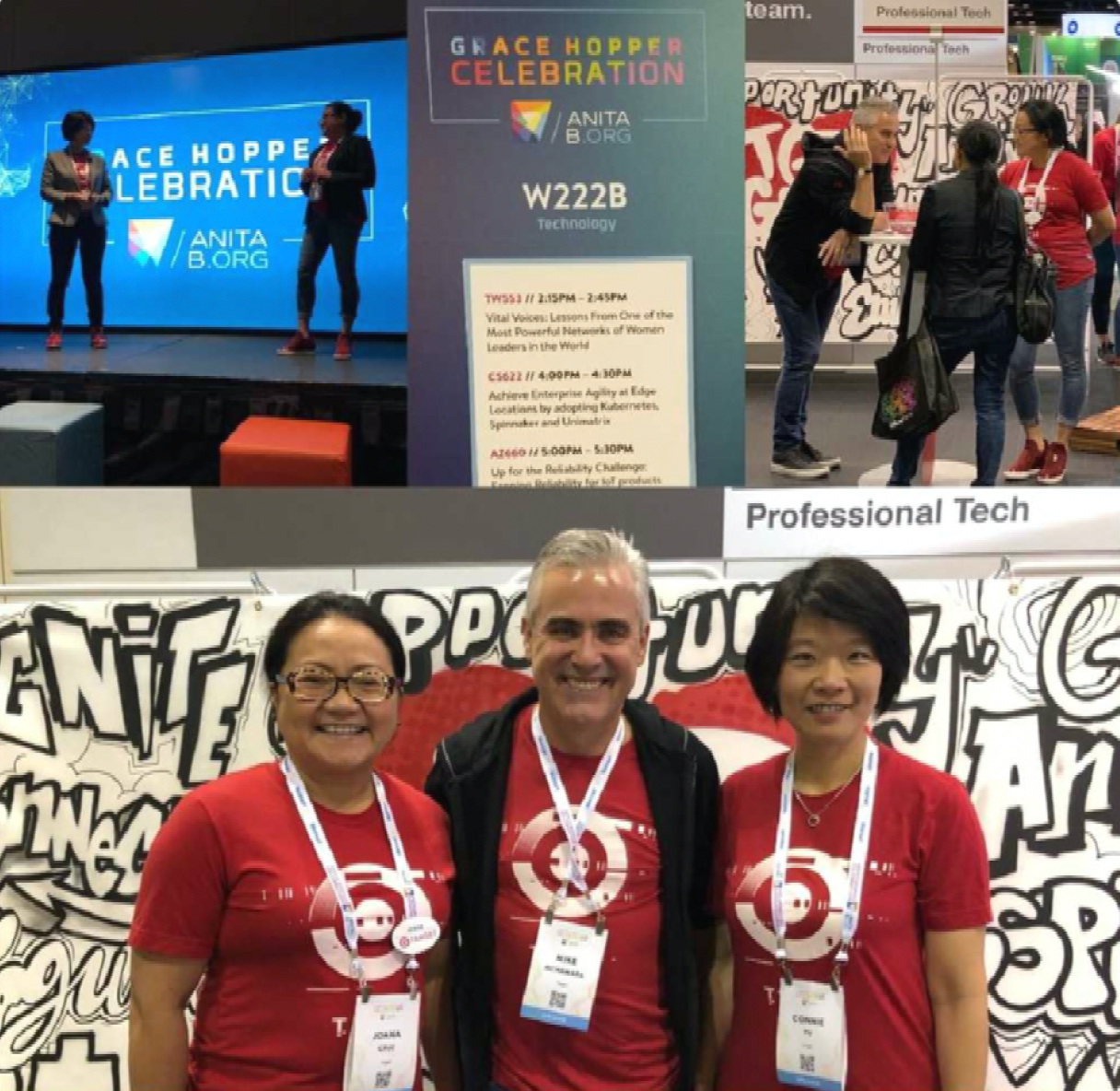 Joana Cruz (Director of Engineering, Cybersecurity) and Connie Yu (Director of Technology, Data Movement – Cloud and Compute)
Session title: Let Developers Self Drive: Maximize Agility with Platform Self-Service and Automation
What are you presenting at GHC?
"We will be presenting on the topic 'Let Developers Self Drive: Maximize Agility with Platform Self-Service and Automation.'"
Why is the topic important to you, to Target, or to the tech industry overall?
"Self-service is critical because it empowers developers, enables platform engineers, and accelerates business agility. It is a simple concept, but achieving it takes intentional investment and consistent commitment. Once the platform has a sizable number of users, balancing the daily operational need and building self-service capability becomes harder. We are still in the middle of this journey and making daily tradeoffs. We want to use the analogy of a full-service restaurant vs. a buffet to make the concept memorable. We hope it will remind the audience to start their self-service early. In addition, by sharing how we implement self-service in Kafka and Digital Security platforms, we hope to inspire audiences to be creative and find more self-service opportunities."
Can you share a bit about your careers?
Joana: "Currently, I am a Director of Engineering in Cybersecurity at Target. My teams include Digital Security Engineering, Digital Cybersecurity Analytics, and Network and Email Threat Protection. I was the external community leader for Target Women in Science and Technology (TWIST) volunteerism and philanthropy efforts for 5 years that led to our Target Tech4Good community initiatives, and founder of our TWIST EPIC Awards & Mentorship Program. I am one of the pioneer cohorts of the Target Engineering Manager Immersion Program (eMIP). Over the 12 years at Target, I established global engineering teams in POS domains, led engineering transformation and product modernization in Supply Chain and managed the digital, network, and email security innovation product development."
Connie: "After building my foundational tech skills at a small start-up company, I joined Target in 2006. I like building software systems and have many opportunities to work on exciting problems using different frameworks and tools. For example, as a software engineer, I built point of sale systems in C++, pharmacy systems in C#, and supply chain systems in Java and Scala using Spark.
After several years as a software engineer, my interests shifted from building the best systems to building teams and developing people. Knowing about my career goal, several leaders in Target tech gave me growth opportunities on the job and recommended me to training courses. In addition, one of them encouraged me to apply for eMIP, our internal development program designed to propel diverse lead engineers into leadership roles. Because of that, I had an opportunity to join our infrastructure team in 2018 where I still work, leading teams to build cloud platforms. I still have a lot of fun and learn a ton from my teams daily."
Have you attended Grace Hopper in the past? What are you most looking forward to at the conference this year?
Joana: "Connie and I were #GHC2019 speakers and received great reviews (see this 
audience blog
) and decided to submit again when GHC was back in-person.
This will be our fifth time as GHC's Target tech Woman Ambassadors of technology and diversity, and we hope to continuously advocate for the advancement of all future women engineers and technologists."
Connie: "This year is my fourth time attending GHC in person and second time as a speaker. The experience of learning from remarkable technologies through talks and working closely with amazing women to encourage them to join Target tech always energizes me. I am excited to share the story about our self-service platform journey and exchange ideas with our audiences.
In addition, it is also my first in-person business travel after the pandemic. I look forward to spending time with the GHC Target team and enjoying each other's company."
What is your favorite Target brand? Or what is in your Target cart?
Joana: "Any Good & Gather and All In Motion brands. Not only are they good quality products, as a team member we get to enjoy a discount on these brands."
Connie: "Good & Gather! I love wholesome, delicious, and "good for you" food. I tried many Good & Gather food items that don't disappoint. So many organic options, and I like the clean package design."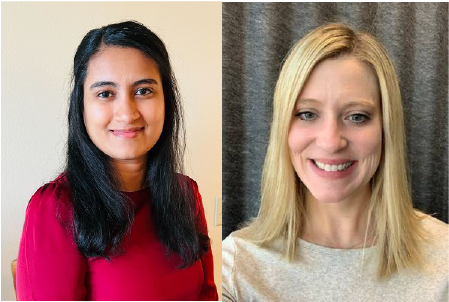 Varsha Kumar (Lead Data Scientist) and Amy Duda (Director, Data Sciences)
Session title: Bot Identification Using Clickstream data & Outlier Detection
What are you presenting at GHC?
"We will be speaking about bot detection using clickstream data and outlier detection models."
Why is the topic important to you, to Target, or to the tech industry overall?
"During the pandemic, bot traffic to target.com and many other ecommerce sites increased significantly, interrupting our understanding of business metrics and site reliability. It is important to be aware of bot activity so that we can increase trust and guest experience in our digital platforms.
The bots that are bad actors cause disruption in numerous ways, including draining inventory of high demand products, overloading servers with single page requests, and web scraping price information for competitive pricing. While cybersecurity teams help stop most bot traffic through IP address blocking, rate limiting, and request blocking, the remaining bots that make it to the website still affect the way business performance metrics are calculated for Digital Marketing teams. The project we will highlight at GHC identifies attributes from browse behavior that help predict if a visitor is a bot or human and we hope through sharing our approach, this could help other Digital Marketing teams who deal with similar issues."
Can you share a bit about your careers?
Varsha: "I started in the field of data analytics in 2013. In 2019, I received my master's degree in Business Analytics and joined Target as a Data Scientist. I am currently part of the Digital Core Capabilities team in Data Science and working on the Droid (bot identification) project."
Amy: "I have been at Target for the past 14 years with all my time spent in Data Science roles supporting different areas of Target including Financial and Retail Services (FRS), Food and Beverage, Guest Segmentation, Digital, and Stores and Properties. My favorite part of my job is the incredible people I get to work with every day. Data Science is ever evolving, and I love the challenge of continuous learning throughout my career. Currently, I lead the team of Data Scientists that support Stores and Properties."
Varsha: "I enjoy problem solving using technology."
Amy: "I graduated with a double major and Chemistry and Mathematics and knew I wanted to do something with numbers. I started at Target as a Data Analyst and found that I had a passion for helping the business drive decisions by leveraging data. Data Science was the perfect fit for using my skills to do just that."
Do you have any career mottos that you live by?
Varsha: "I don't have a career motto, but I think it's important to always be curious which makes work fun."
Amy: "'Tell me and I forget, teach me and I may remember, involve me and I learn.' I love the collaborative nature involved in solving problems and developing products that support our business, so this motto is one that I apply with my team as we learn and solve problems together."
Have you attended Grace Hopper in the past? What are you most looking forward to at the conference this year?
Varsha: "Yes, I have. I am looking forward to connecting with people from similar backgrounds and getting to know Target team members better at the conference."
Amy: "This will be my first time attending Grace Hopper. I am most looking forward to meeting so many talented women in tech all of whom will be in different stages of their careers. We can learn so much from one another's journeys."
What is your favorite Target brand? Or what is in your Target cart?
Varsha: "I like the All in Motion active wear
brand. It's great that we get a team member discount on it!"
Amy: "Good & Gather Kettle Cooked Sea Salt Potato Chips and Good & Gather Raspberry Hibiscus Sparkling Water"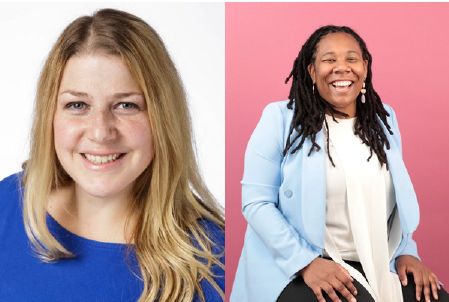 Brynn Kampinen (Senior Program Manager, Tech Talent Programs) and Jade Denson (Senior Manager, Tech Talent Programs)
Session title: Pipeline Disruption: Building Intentional Pathways for Non-Traditional Talent
What are you presenting at GHC?
"We will be talking about Talent Pipelines, using our Emerging Engineer Program and how it came to be as an example for how to think differently when hiring and onboarding underrepresented talent."
Why is the topic important to you, to Target, or to the tech industry overall?
Brynn: "I've seen through our Emerging Engineer Program how thinking differently about talent pipelines can truly impact companies, communities, and individual's lives. Changes such as these are critical for our tech industry to continue to evolve, and I am really looking forward to sharing our story to inspire others."
Jade: I remember the first moment I discovered careers in technology. Most folks who look like me (Black women) still haven't experienced that moment. I'm pumped to highlight the impact of rethinking pathways into tech, and excited to push companies to build more intentional structures and programmatic opportunities that better mirror and embrace the underrepresented talent they're trying to recruit. We've figured out a formula that disrupts the traditional tech hiring practices by focusing on alternative recruitment, programming, and measurement and it's something the broader tech community needs to hear."
Can you share a bit about your careers?
Brynn: "My 20-year anniversary with Target is in just a few weeks. I've been here since I graduated college and held a variety of roles within Merchandising and Human Resources. Most of my time has been within Talent Acquisition, before I moved to my Program Manager role within Target tech in Spring 2020."
Jade: "I have spent my career facilitating opportunities for people to grow and develop professionally. I started working for DIS-Study Abroad in Scandinavia where I helped college students explore study abroad opportunities and coached them on how to leverage international experiences to further their development. I transitioned into tech in my next role at Genesys Works, where I coached companies and intern supervisors on how to deliver impactful internship experiences for underserved high school students. I then took my love for technology to the Minnesota Technology Association (MnTech) where I curated and built programming for technologists, focused on bringing people together to learn, connect, share best practices, and collaborate. My passion for developing people and providing impactful learning opportunities is what led me to my current role at Target."
Brynn: "I supported Target tech when I was in Talent Acquisition and loved the culture and learning how critical tech is to our organization. I was thrilled when my current position opened in Target tech, it was truly a dream role for me. Being a Program Manager has been such a fulfilling opportunity."
Jade: "My time at Genesys Works opened my eyes to technology, and I realized there was space for someone like me. While I worked to give high school students exposure to careers in tech, I realized I too could have a future in technology. Before working there, I made assumptions about what it meant to work in technology: you must be good at math, love coding, and be technical. My time at Genesys Works opened my eyes to the fact that my skills and passions were needed in technology too."
What is a meaningful memory from your work this past year?
Brynn: "We had the opportunity earlier this year to present the Emerging Engineer Program to our CEO and Target Leadership Team. It was such an incredible experience to share our story and the impact of our program."
Jade: "We hosted an event called 'Community Day' for all current and past tech talent program participants. About 280 engineers from our programs came on site to Target Northern Campus (TNC). We had a full day of headshots taken, tours of our Target North Campus, a community lunch, swag giveaways, and program-specific social hours. It was awesome to bring so many people together for a day of connection."
What is your favorite Target brand? Or what is in your Target cart?
Brynn: "All things Good and Gather- especially the sparking water."
Jade: "up & up and Room Essentials"
At Target, we are always looking to hire talented team members to help us transform our guest experience across all channels. Interested in joining our team?
Check out available technology roles