Ryse software engineering coaches empower Target tech team members with the knowledge and enterprise tools they need to build the future of retail technology. Ryse coaches are engineers, developers, advocates, instructors, facilitators, and cultural change agents – all in one. We tackle some of the organizations' biggest technical alignment issues, serve as advisors and advocates for technologies and patterns in use throughout the organization, and run experiments across the company to test new ways of working and learning together.
Our goal as Ryse coaches is to continuously improve Target's engineering culture and help engineers maximize their talents. That focus has felt even more important during the past several years of a global pandemic that changed so much about how we work and live, and in turn changed a lot about how technologists collaborate.
Working side-by-side in Target's immersive learning center transformed into shared screens, mixed calendars, and Zoom calls. Interactive courses introducing new technology in a classroom environment morphed into an experiment in remote learning methodologies and exercises. Early in the "new normal" of virtual-first work, we quickly realized that simply shifting traditional practices online was not going to cut it. A new approach to team workshopping and learning was necessary, and we experimented thoughtfully to get it right.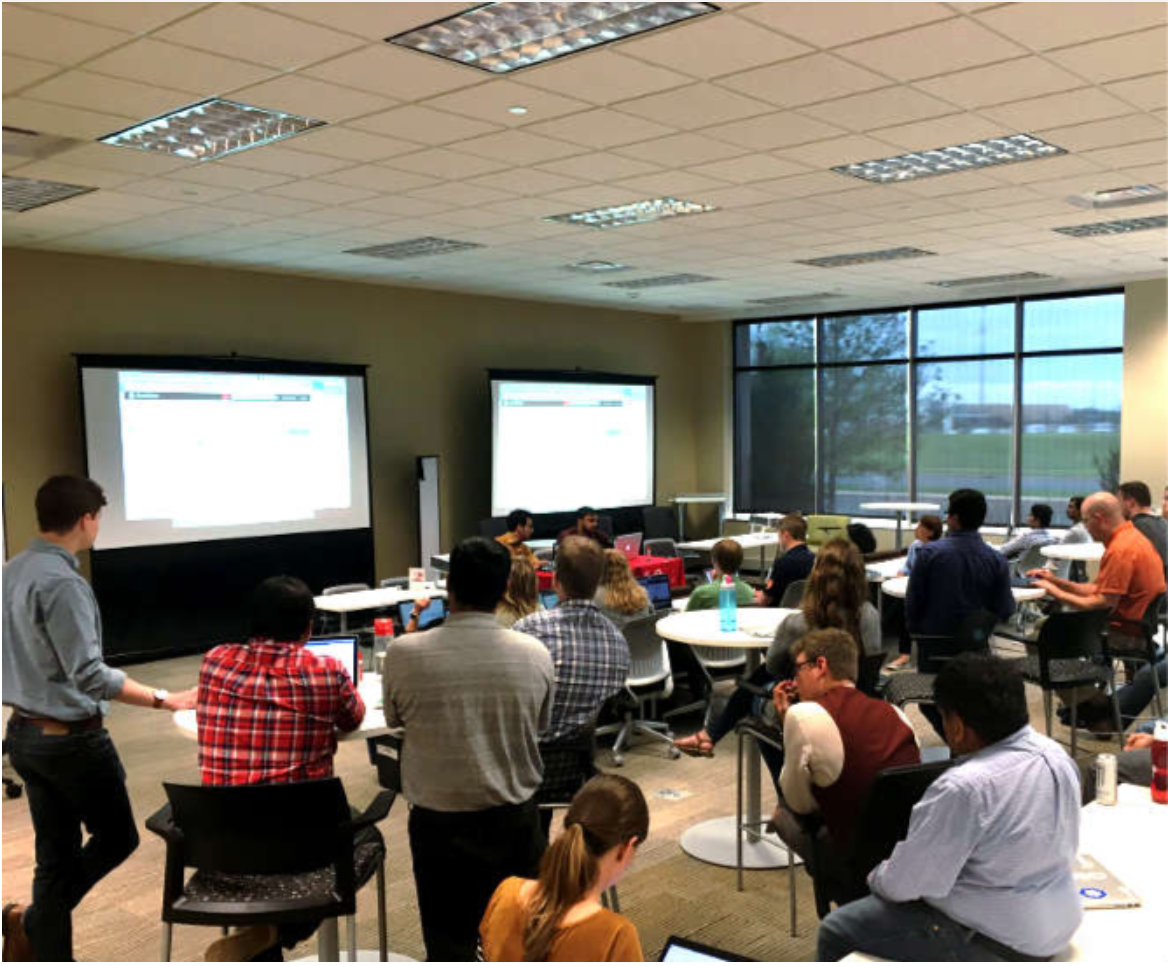 As we began to work on adapting our methodologies for training in our new online world, we decided to focus on one of the major transitions our tech team has undertaken in the last few years – transitioning from a mainframe-focused, monolithic architecture into a microservices-centric, event-driven architecture. Though Target tech recently completed a technical transformation in the architecture space, implementing this brand-new platform from a technical standpoint was the "easy" part. The bigger challenge was onboarding all our development teams and helping them focus on fine-tuning their implementations to take advantage of our new architectural framework.
To support this need, we worked with the Enterprise Architecture team to design and build our first-ever remote interactive offering: a course to introduce technical team members of all levels to the "what and why" of our Target Platform architecture, and how it could be harnessed to provide value to their individual products.
In basic terms, the Target Platform architecture can be thought of as a large set of building blocks. Teams build their applications combining those building blocks in different ways depending on their needs. Our task in creating this new interactive offering surrounding the platform was to ensure that development teams across Target not only understood the advantages our new architecture would provide the products they build, but also how to adequately apply those advantages to power Target's business in new and exciting ways.
Foiling Facilitation Foibles
Teaching courses online creates unique challenges for facilitators and presenters, including keeping large-group sessions on-task and on-schedule while retaining participants' attention and engagement through immersive experiences. Meaningful group interaction can take time and ensuring two-way communication between the facilitation/presenter team in a smooth and meaningful manner can be difficult. 
Jane Beard says in 'The Seven Minute Rule'
 that audiences will begin to disengage from a presentation within about seven minutes if not provided an opportunity to interact with the content or presenter directly. Therefore, we needed to rethink our traditional methods of engaging a group in our previous in-person sessions.
To keep audiences engaged, we harnessed many of the tools that conference platforms like Zoom provided to us, including routinely asking the audience to answer questions based on the material presented (in a quiz-like format, but completely anonymous), allowing attendees to interact with the presenter using Annotation functionality, and designing activities that groups would complete together in breakout rooms.
The most complex of these activities included a task to design a brand-new application for Target.com from the ground up using the "building blocks" of the Target Platform architecture that could be used to mitigate the challenge of person-to-person contact around the checkout process in stores during the onset of the pandemic. Depending on the experience/background of the engineers participating in each group, any number of perfectly correct, justifiable solutions would be created from this activity, and this led to some great discussions shared both within smaller groups as well as the larger cohort about different ways the Target Platform architecture could be used to solve challenges that the organization was currently trying to tackle.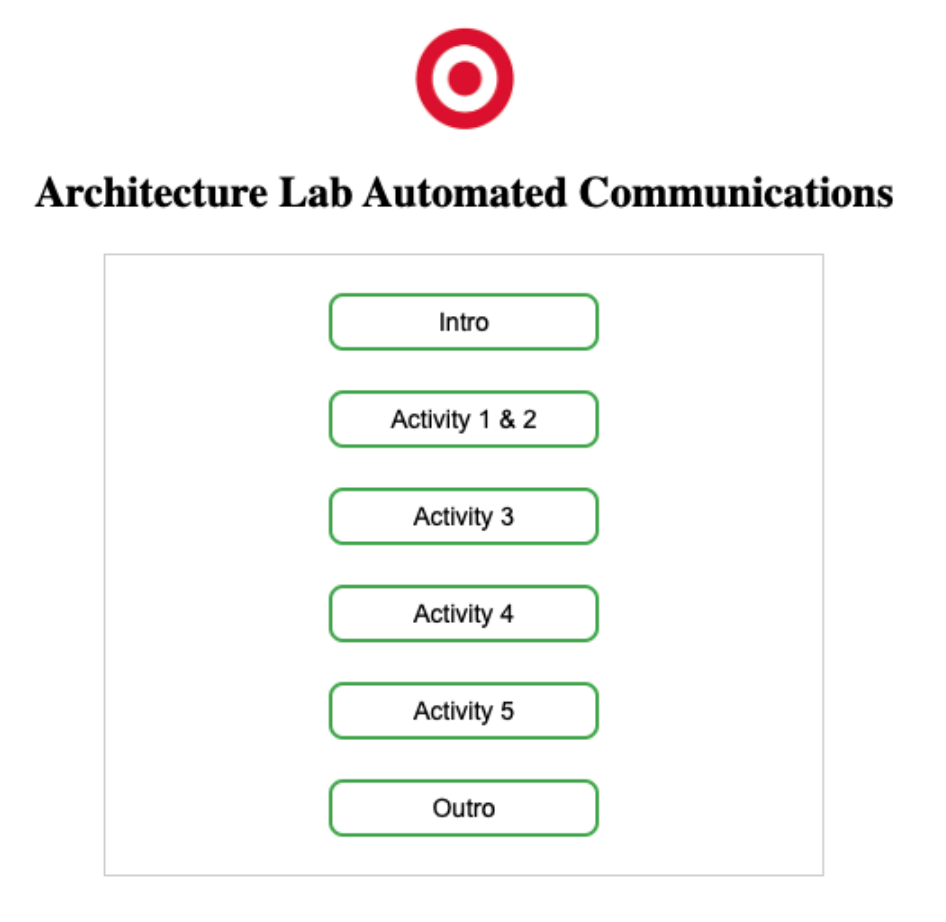 To address facilitation tasks such as the distribution of worksheets, links, and instructions for interactive activities and soliciting attendee feedback through surveys, we've built several tools, such as the Architecture Lab Automated Communications app. The app is designed to harness automated Slack chat bots and API communication to deliver messages to attendees throughout the course, assign groups, manage activities, and more. With over 100 team members often participating in the Target Architecture Lab simultaneously, keeping things moving was paramount to providing a positive learning experience for all attendees.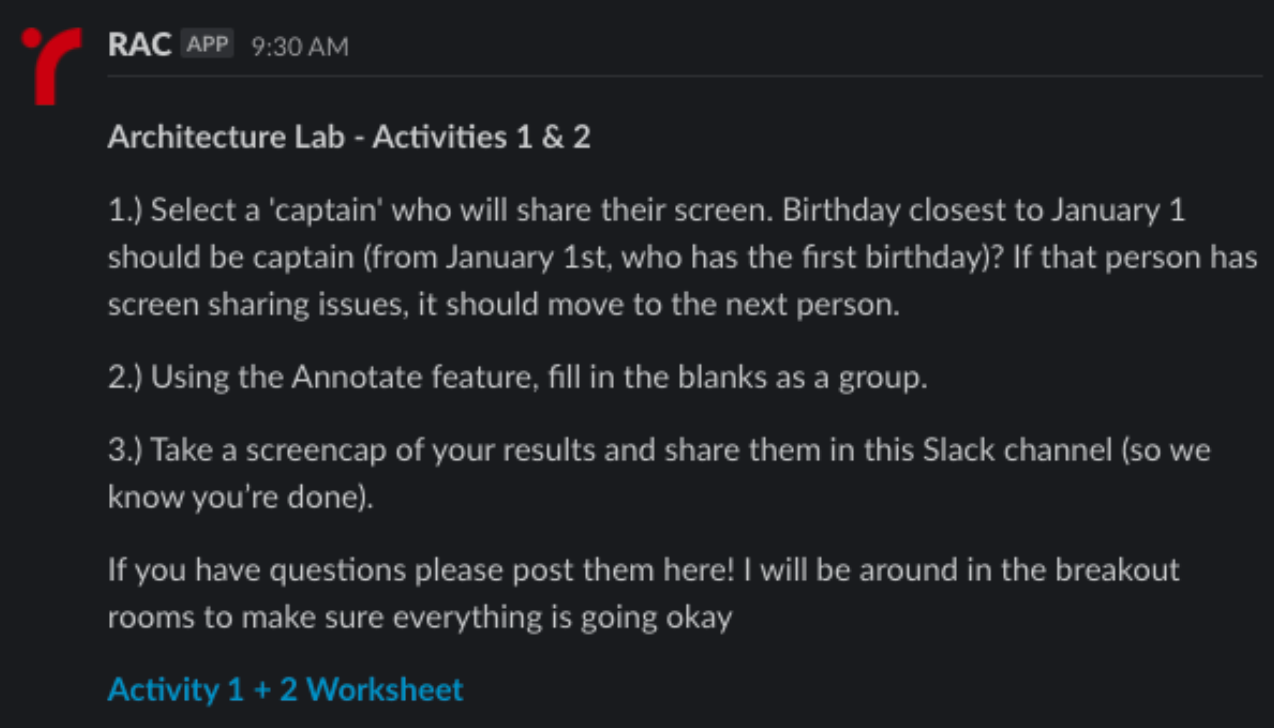 Finally, it's important to provide participants with a way to provide regular feedback throughout the process. It's not always obvious how the course went – often, parts of the course that a facilitator feels went the smoothest are the ones that gave attendees trouble, and vice versa. Keeping the dialogue open for feedback throughout the course allows facilitators to change direction if something happens to go awry (such as internet hiccups, authentication issues, and more). We survey our participants early and often as part of the course agenda, rather than sending them a follow-up email with a survey link after the course concludes. This timing has significantly improved survey participation, often by upwards of 50%.
Other training efforts beyond this architecture-based offering required rethinking our training timelines, such as condensing a multi-day in-person Product Design Advocate training to a remote training spaced out over several weeks. This required a change in approach to the structure of the material (e.g. where does it make sense to stop, knowing that the class won't meet again for several days) as well as a much more significant focus on interactive activities completed in groups to aid with learning goals. As with the Target Platform architecture offering, consistently providing space for learner feedback has been paramount when framing up each version of this offering. We've utilized feedback collected from each cohort to adjust content, time limits, and processes and procedures around activities to better accommodate the needs of remote and hybrid learners. We found, for example, that small group activities are best conducted with approximately 5-6 people in each breakout room. Any more than that, and the length of time required for groups to complete an activity increased by 25-30%. Additionally, we saw a drop in engagement from larger groups in which 1-2 "main voices" emerged too quickly, minimizing opportunities for discussions with the wider cohort. This was especially noticeable in open-ended activities.
If you plan to implement similar training formats in your own organization, the most important thing to keep in mind is communication. Keep a pulse on what your engineering teams are looking for, and remember that just like theatrical productions, concerts, or any other live event, things can go sideways or surprise you. With a strong focus on communication, along with a healthy emphasis on experimentation through different methodologies of interactivity with the audience, you will find new and effective ways to deliver technical content to your teams across the world in a hybrid working environment.
Since the start of COVID-19, this new education format has successfully shared a core knowledge of our new architectural platform to more than 3,000 Target engineers, data scientists, and other team members in technical roles across the globe. As a response to the feedback received from attendees, we have also built an easily accessible self-learning video course, including interactive knowledge checks and do-it-yourself activities that team members can complete on their own time. 
As Target transitions to a hybrid workplace,
 we anticipate this interactive virtual-first approach to training on technical concepts will be a major driving force in supporting engineers of all levels moving forward.